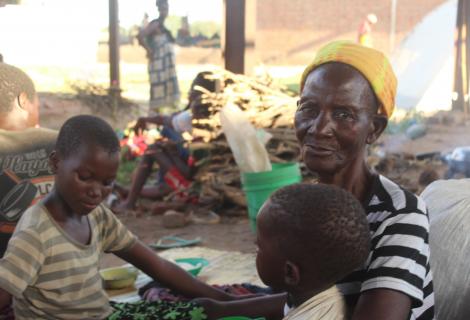 As food support comes in trickles
On a scorching afternoon of 5th February 2022, we find Mariana Malikevu and her four family members having the only meal of the day at Bangula Camp which has a population of 14525.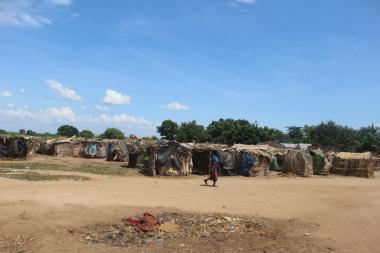 Malikevu, 52, is one of the 871,011 people who, late January 2022, survived the Tropical Storm Anna's devastating wrath that claimed 38 lives, injured 58 people, and displaced 22,790 households.  
As family members enjoy the meal, Malikevu, 52, is visibly apprehensive. She is not sure when the next meal would come.
"It is tough here, food is our biggest challenge," says Malikevu who hails from Chikanga Village in Traditional Authority Mbenje.
 "We received maize flour of about three kilograms three days ago and what you see here is the last meal from the last flour we received. It is my prayer that we receive another food tomorrow or the soonest possible."
Malikevu's desperation is reflected in the faces of many others, especially women, huddled in groups at the camp. The isolated fireplaces at the camp render credence to the scarcity of the food at the place.
Stella Davie, Bangula Camp chairperson, says there is a real food crisis at the camp and appeals to government and well-wishers to urgently come in with food support before the situation worsens. Davie fears for 293 lactating mothers in the camp, saying the food shortage might lead to cases of acute malnutrition.
"Government has been providing about 50 bags of maize every three days. Other well-wishers and charity organisations have also been coming in with food support, but it has not been enough for the big population here. To ensure that the food goes round the 3105 households here, we have been rationing it, which eventually means people have been sleeping on an empty stomach," she says. 
Davie says much as food is the biggest need at the camp, there are other issues such as inadequate sleeping space, beddings, soap, cooking utensils, lamps, mosquito nets, clean water which require the support of government, non-governmental organizations, private sector ,and other well-wishers.
Davie's alarm bells ring just two days after Department of Disaster Management Affairs (Dodma) told local media that despite a call for donations towards assistance of those affected by recent floods, they have not received any funds.
Dodma commissioner for disaster management affairs Charles Kalemba, is quoted as saying the department has only K1.9 billion (about US$2.2million) in its accounts, which he said is not enough for the relief efforts.
This surely means Malikevu and numerous hunger-stricken people currently in 153 camps in the country might go hungry for days on end before receiving food support.