Abandoned but now empowered against sexual and gender-based violence: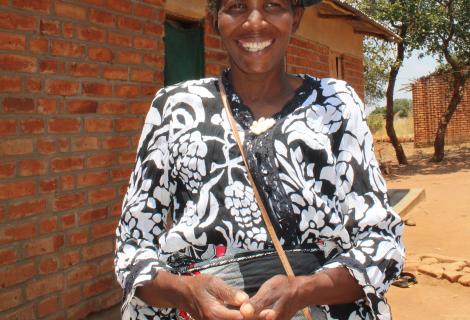 Spotlight Initiative turns tide against GBV in Mzimba
The lazy day on first October, 2022, in Mateyo Ng'oma Village, Traditional Authority Mthwalo in Mzimba District starkly contrasts with a determined and focused soul reflected in Glory Tomoka's face. She believes she is destined for economic empowerment, having joined Chitemwano Village Savings and Loans Associations (VSLA) in 2021 in her area.
"One will be lucky to find me home during daytime nowadays. I am usually at my shop which is currently under construction or with fellow women sharing sexual and gender-based violence experiences and following up on such cases" says the 47-year-old Tomoka, beaming with pride.
The VSLA initiative is part of the interventions under EU-funded Spotlight Initiative's "Audacity to Disrupt Sexual and Gender-based Violence" project ActionAid Malawi is implementing in Mzimba in partnership with UN Women.  
Geared towards accelerating efforts to eliminate violence against women and girls including sexual gender-based violence (SGBV) and harmful practices, the Spotlight Initiative is built around six inter-connected and mutually-reinforcing pillars focusing on laws and policies, institutions, prevention and social norms, response services, data, and the women's rights movement – driving innovation and transformative programming to end violence.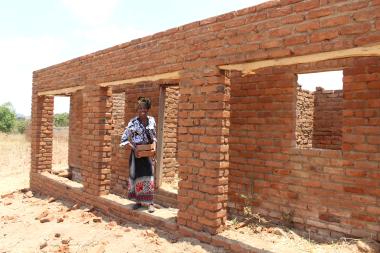 Like many women and young women in Mzimba, Tomoka is a victim of abandonment by her husband who left her in 2015 for "greener pastures" in South Africa. Tomoka found out three years later that her husband had married another wife and decided to settle in South Africa. She was left in the cold with the burden of taking care of four children single-handedly.
"I did not have any reliable source of income apart from farming and as a single parent, I faced many challenges in raising children, especially providing food and educational support," recounts Tomoka.
There seemed to be no end in sight to her plight, until the introduction of the SGBV project, the first of its kind in the area.  The project enabled Tomoka and numerous survivors to join forces against the prevailing SGBV in the area.
Through movement building, the project facilitated the formation of Tikoleraneko Women Forum to take action against SGBV. Women Forum members also engage in economic empowerment activities as a response to the gender-based violence.
Tomoka shares how belonging to a women forum has enabled her recover from the trauma of abandonment and empowered her economically. Under the project, Chitemwano got K362,000 as seed money for the VSLA.
"I share K4,000 at my VSLA and that helped me borrow K60,000 in October, 2021. I invested it in sugar, beans, and cooking oil business from which I realised K150, 000. I repaid the loan plus interest and remained with K90,000 which I used to buy cement to renovate the house," she says.
This year, Tomoka borrowed K100, 000 and invested it in farm produce and made a profit of K80, 000 which she is now using to construct grocery shop at nearby trading centre. She hopes to stock the shop with various groceries to meet the growing needs of the people in her area.
"My life no longer feels empty and hopeless. Through Tikoleraneko Women Forum, I have now found a purpose in life and I am glad to be part of the fight against sexual and gender-based violence in this area," she concludes.