"Toto Nkhanza" rescues Elinance from abusive marriage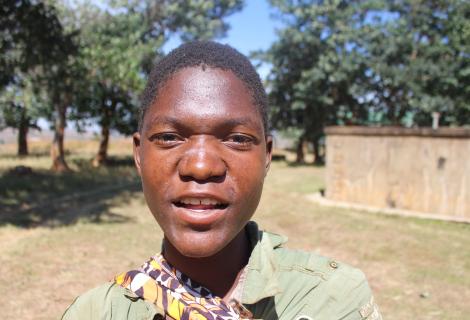 ...as project empowers more girls, young women against violence
Alinance Sesitina from Ziyenera Village in Traditional Authority Kalumo in Ntchisi District is still cursing the day she was forced into marriage by her parents. Ealy 2020, Alinance engaged in a sexual relationship with a man from the same
When her parents later found out that Alinance had fallen pregnant for the man, they forced her to marry the man responsible for the pregnancy. That was the end of Alinance's education life, dropping out of standard seven.
In marriage, Alinance's who once dreamed of becoming a nurse, her life became even more miserable.
"My husband used to beat almost on a daily basis. He would not provide any support to me as he used to say I was not the type of the girl he dreamed of marrying," she says.
The miserable life she was going through forced Alinance to escape her matrimonial home and went to stay with her grandparents.  Life was still tough at her grandparents' home considering that they were also poor, but Alinance says she was relieved as she became free from her violent husband.
Alinafe's miserable life eased when she joined Talandira Safe Space under the "Toto Nkhanza" project being implemented by ActionAid Malawi with funding from UNFPA-Malawi under the Spotlight Initiative.
"At the safe space I got an opportunity to share my experience with fellow young women in similar situation and together, we encouraged each on how to overcome trauma and stress. Our mentor was also supportive in helping me overcome the ordeal I went through."
Alinance says safe space helped her re-unite with her parents who are now supporting her and the kid.
"Once I find resources, I plan to stand a second-hand clothes business. I have now realised the danger of early marriages and no man will fool me again till I become mature enough to re-start a marriage life," she says.
Ntchisi District Social Welfare Officer, Chikondi Macheso says they are many teenage girls in Alinafe's situation in the district and that the project is a timely intervention.
"The rise in early marriages and teenage pregnancies is as a result of poverty and cultural practices. The coming of the project is going a long way in complementing the district's efforts in fighting all forms of gender-based violence in the district," she says.