PPL project empowers farmers against hazards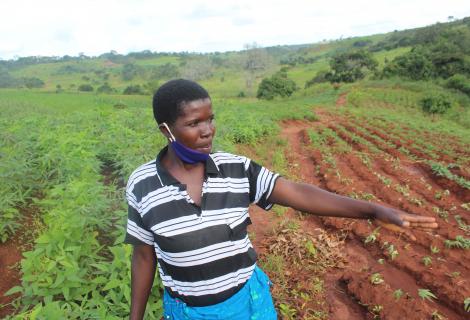 Martha Msofi now sees hope in farming despite climate change
Martha Msofi, a farmer under the Coalition of Women Farmers (COWFA) in Mapiri Village, Traditional Authority Khosolo, has no kind words for her past agricultural life. A mother of five, Msofi says she has been farming in the dark she became a subsistence farmer some 20 years ago.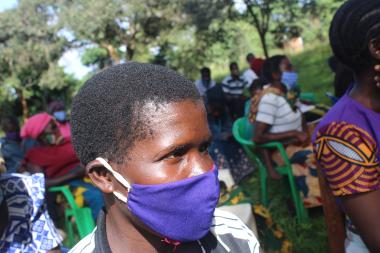 "I like farming because that's bringing me food on the table," says Msofi. "Through farming, we are also able to earn an income to meet family needs including educating children. Unfortunately, since I started farming, I rarely have access to any extension services. In this era of unpredictable rainfall pattern, this makes it difficult for me to cultivate crops accordingly and realise good harvests," she laments.
Msofi's lamentation mirrors that of a majority of smallholder farmers who have fallen victim to climate-change induced weather pattern, marked by unreliable rainfall patterns, flooding and dry spells.  Such an agricultural tragedy could safely be blamed for dragging the majority of smallholder farmers into abject poverty, since the sector is said to employing about 80 percent of the country's population.
Moved by the challenges facing helpless smallholder farmers, ActionAid Malawi and its local partner, Khosolo Women Forum, have, since October 2020, been empowering smallholder farmers in Khosolo in identifying and addressing issues on the elements of an early warning system- hazard monitoring, warning message generation, dissemination and communication of warning messages and response mechanisms and capacity of the people at risk.
The intervention by ActionAid Malawi and its partner is derived from as assessment which exposed lack of access to weather information by most women farmers to enable them take appropriate actions to address or avert the impacts of drought on farming activities.
The assessment, which was conducted together Khosolo District Agriculture Office, proposed establishing women-centred mechanisms for accessing district specific weather information, processing of the information into advisories and dissemination and communication of the advisories to those at risk for appropriate response and adaptation actions, as some of the solutions to the challenges facing smallholder farmers.
Such women-centred mechanisms involved training key stakeholders such as COWFA, Reflect Action Circles, Civil Protection Committees, Village Development Committees, Area Development Committees, and traditional leaders as one way of catalyzing the localized and sustainable approach to building farmers knowledge on agriculture related issues.
Esther Mwafulirwa, a Senior Irrigation Agronomist at Khosolo District Council, hails the initiative by ActionAid Malawi through Khosolo Women Forum, saying it will go a long way in empowering farmers against agricultural related hazards and shocks.