Calls for more food support as floods hit Phalombe again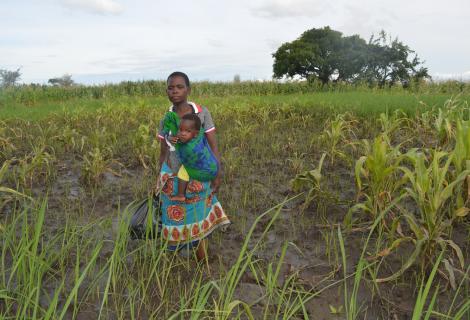 Over 3000 families affected.
Since 7th January 2020, Phalombe District, located in the southern Malawi has been receiving heavy rains, accompanied by hailstorm, leading to flooding of the rivers such as Mombezi, Namazi and Phalombe.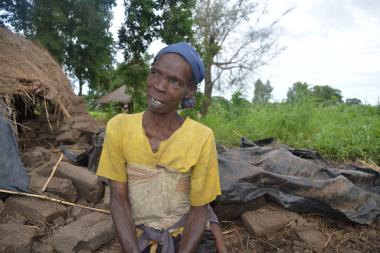 After breaking their banks, the rushing rivers flooded onto crop fields, houses and properties, washing away crops, destroying houses, properties and livestock.
The rapid assessment conducted by Phalombe District Council and ActionAid Malawi local partners on 18th and 19th January indicates that a total of 3954 households in the district are affected, 1096 of which are female headed households.
The most affected areas include traditional authorities Jenala, Nkhulambe, and Phweremwe where hordes of houses have been damaged, leading to displacements. The displaced families have either resorted to public institutions such as primary school blocks or relative's homes for shelter.
Emery Kachingwe a 61-year-old woman in Mwaramwe Village, Traditional Authority Jenala says she lost everything during the fateful night of 7th January.
"Fortunately, members of the village civil protection committee alerted us about possible flooding, so I was awake throughout the night," says Kachingwe, sitting in front of what used to be her house.
"When I heard water entering the house, I immediately carried my two grandchildren out of the house. However, it was too late to rescue my household items as the water had already flooded the house, leading to its collapse minutes later."
Kachingwe, who, together with her two grandchildren, have now sought shelter her nearby relative's tiny house, says her one-hactor maize field, is also under muddy water, painting a gloomy picture of her harvest this season.
"This hunger will continue beyond this season, I will need more food support to sustain myself and my grandchildren," she narrates, despondently.
Kachingwe's predicament is almost shared by Estery Moffat who now fears she will have nothing to harvest to feed her five-member family.
"At the start of the farming season, I had hope but all that hope is now gone with Phalombe flood," says a 38-yearold Mofati of Mboma Village, Traditional Authority Jenala.
Village Headman Malambwe, whose area is the most affected, says the immediate needs of the affected families include food, plastic sheets, household utensils, and mosquito nets, and school materials for school -going children.
An official from Department of Disaster Management, Aubrey Mwamadi (DODMA) at Phalombe District Council, says the council is now mobilizing support to help the affected.
"We are asking every stakeholder working in Phalombe to join us in reaching out to the affected with every kind of support they have," he appeals.
Since Cyclone Idai hit the same district March, last year, ActionAid Malawi has been providing food support to the affected families, mainly in traditional authorities Nkhulambe. However, in light of the recent floods, more food support, and urgently so, will be required for the affected households.  A stitch in time, they say, saves nine.