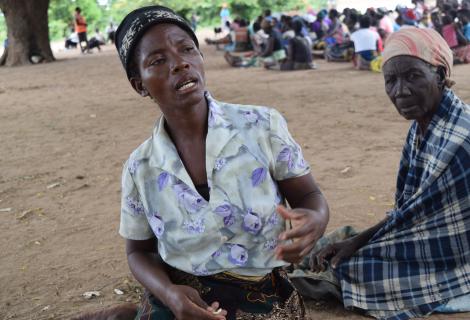 Nsanje floods victims seek recovery support
Since 7th March, when disaster struck southern Malawi's Nsanje District, Rabecca Chakhombe has been surviving on relief items from various well-wishers including ActionAid Malawi (AAM) at Chikunkha Camp, her current base.
A victim of the twin effects of Cyclone Idai and floods that claimed 50 lives, affected 868 900 people and left 731 880 people in need of support across the 15 affected districts,  Chakhombe says all is not well at the camp located in Tchapu Village, T/A Mbenje.
"Despite the relief items we receive, my stay here is tough," says Chakhombe, a widow.
"I really miss my three children whom I sent to my younger sister in Bangula following the floods that destroyed our homes and property. She asked me to join my children at her house but I opted to be at the camp, as I didn't want to overburden her with more responsibilities,"
Chakhombe says her stay at the camp is worsened by the fact that 207 households at the camp have to share one toilet and bathroom which she describes as "an insult to her dignity and right to privacy".
"It's a shameful thing that whenever we want to bath or visit a toilet, we have to queue due to inadequacy of the sanitation facilities at the camp. It's stressful living here. I want to return home."
Chakhombe's remarks are echoed by Fainess Khefasi, the deputy camp manager. She says they have managed to present their pleas to relevant authorities at the Nsanje District to no avail.
"We presented our pleas to relevant authorities at Nsanje District Council but to no avail.  We just gave up, waiting for our return home," says Khefasi.
However, Khefasi says the households at the camp are more interested in returning home to rebuild their lives than fight for better living conditions at the camp.
"If you ask people here, they will tell you that what they need most is the support in form of seeds, hoes, fertilizers and loaners so they go back home and have a fresh start to life," she says.
According to the 7---27th April, 2019 Malawi floods situation report produced jointly by the Department of Disaster Management Affairs (DoDMA) of Malawi and the United Nations Office of the Resident Coordinator in Malawi, in collaboration with humanitarian and development partners such as ActionAid Malawi, more than 92,000 households have been reached with food and non-food items in 15 affected districts as of 27th April.
The report says plans are in the pipeline to give the affected families the needed support to return home and rebuild.
"The Department of Disaster Management Affairs (DoDMA) in collaboration with partners has developed a mimum return package that will support a participatory return of flood-affected displaced populations and their transition to early recovery," reads the report in part.
The report is further asking partners to contribute towards the return home package for populations willing to return and start their rebuilding process.
AAM, one of the partners on the ground offering response is currently putting together rebuilding initiative.  
"Through our women-led grassroots partners, we will soon launch  a project that will empower those affected, by providing them with recovery support such as seeds, hoes, farm materials and capacity building in agro-ecology," says McClean Chimpeni, AAM programme coordinator for Nsanje.
Chimpeni says so far AAM has distributed relief items to 3165 affected households in camps such as Bangula, Khope, Chikunkha, Ngabu and Phokera, Nthole, Bitilinyu, and Nyachilenda. He says the support was in form of maize flour, laundry soap, cooking oil, sanitary pads, mosquito nest, solar lamps and sisal mats.
However, all  Chakhombe needs now is recovery support so she can re-unite with her family members and start leading a normal life again.
"I know it will it not be easy but with support from well-wishers such as ActionAid Malawi, I will get back on my feet," she says.
It's clear that with the ongoing response from Malawi Government in partnership with organisations such as AAM, Chakhombe and all those affected by disasters in the district will soon recover from the shock and have their lives re-built.