Community TB Volunteers contributing greatly to the increased detection of TB cases in Malawi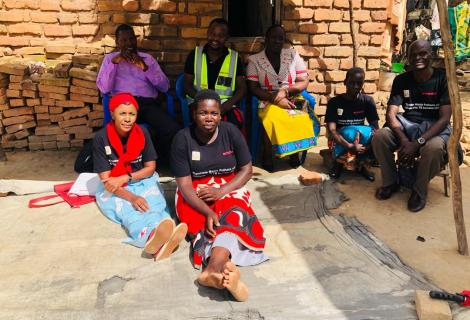 ActionAid Malawi has facilitated training of 14,000 volunteers from 1400 CSCPs across the country in passive case finding in 2018. It has also established 180 hotspot villages in eight TB high risk districts where it has trained 360 volunteers in symptomatic house to house TB screening. These volunteers have referred 9,254 TB presumptive and 1,040 of these were diagnosed with TB in 2018
Considering that TB affects the citizenry both economically and socially, the Government of Malawi through the Ministry of Health and Population and various stakeholders are implementing different TB programmes across the country. For instance, with support from the Global Fund, the Government is providing TB services through mobile TB diagnostic vans which have capacity to do chest X-rays and results are communicated instantly. Those that are tested positive are put on TB treatment right away to prevent further spread.
Equally important in the fight against TB in Malawi has been establishment of Community Sputum Collection Points (CSCPs), which are community led structures that support TB case identification of presumptive and supports treatment adherence of TB patients. These CSCPs are manned by volunteers. During the 2019 national commemoration of the TB Day, the Chief of Health Services in the Ministry of Health, Dr. Charles Mwansambo, who was also the Guest of Honour at the function, acknowledged the positive impact these volunteers are bringing in TB case detection.
ActionAid Malawi, Principal Recipient for the non-biomedical part of the Joint TB/HIV Global Fund Programme, is one of the organizations that are training CSCP Volunteers to build their capacity in identifying and reporting TB cases in their communities. 
According to the Joint TB/HIV Global Fund Programme TB Coordinator, Kondwani Mshali, ActionAid Malawi through Episcopal Conference of Malawi as the Sub Recipient of the grant, has facilitated training of 14,000 volunteers from 1400 CSCPs across the country in passive case finding in 2018. It has also established 180 hotspot villages in eight TB high risk districts where it has trained 360 volunteers to be conducting symptomatic house to house TB screening. In total, these volunteers have referred 9,254 TB presumptive to their nearest health centres and 1,040 of these were diagnosed with TB in 2018
"These volunteers go through a training on how they can identify a TB presumptive, collect the required sputum and transport it to the health centre whilst protecting themselves from contracting the TB bacteria. The volunteers are also equipped with data recording skills using the registers and reporting forms that are supplied to them," said Mshali.
"These volunteers are linked to a focal TB person at their nearest health centre whom they work with often. This is one way of ensuring sustainability of the intervention even after the project phases out," he continued.
Idah Mchelenje is one of the volunteers at Chikompulasi CSCP in Mzimba. Their CSCP started in December 2016 and reports to Ekwendeni Mission Hospital. In 2018, the volunteers referred 53 presumptive cases to the hospital and out of these, 10 were diagnosed with TB. By 26 March 2019, 9 of those diagnosed with TB had finished their treatment and are now cured whilst one is yet to finish the treatment.
According to Idah, establishment of the CSPs has brought TB services closer to the community and this is encouraging more people to submit their sputum for examination. "People are no longer walking long distance neither are they spending money for transport to have their sputum examined at the hospital or to collect their results. In fact, our role has prevented them from queuing at the hospital and they use that time for something productive in their lives," she said.
"We are grateful for the good working relationship we have with hospital personnel. When we deliver sputum, it only takes two to three days to get results. This helps us to communicate about the results to the presumptive in time. This builds trust between us and our fellow community members. If they are diagnosed with TB, we encourage them to adhere to drugs until they are cured," she continued.
A 49-year-old Synate Kaunda is one of the people that were referred to the hospital to have his sputum diagnosed by Idah. Synate said TB affected his work as a builder because his health deteriorated For a year he could not work. "I am grateful to the volunteers for encouraging me to adhere to drugs. I am now cured, and I am back to my work which brings food on the table. My advice to all people is to encourage them to go for testing when they suspect TB signs and adhere to drugs. TB can kill, but I am a living testimony that there is TB treatment," he said.
To motivate CSCP members to perform better, the National TB Programme initiated annual awards to the best CSCP in 2017. The awards are given to the best performing CSCP within the district that is hosting the national TB Day commemoration. Chikompulasi is the CSCPs that performed well in Mzimba district in 2018 and received 10 bicycles from ActionAid Malawi during the event. The bicycles are expected to ease transport challenges that volunteers face to deliver sputum to the health centre and collect results in time. Again, is one way of energizing them to put more effort in identifying TB presumptive cases.
Through the Joint TB/HIV Global Fund Programme, ActionAid Malawi has been supporting the CSCPs with enablers such as sputum bottles, bicycles, tables, chairs, gumboots, umbrellas, registers, reporting forms, but also protective wear to prevent the volunteers from contracting the TB disease.