Malawi's Global Fund Oversight Body impressed with AGYW project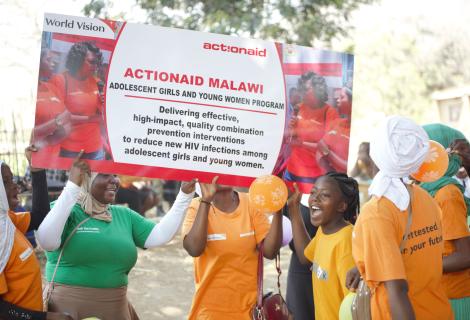 As project contributes to GVB reduction and increased SRHRS uptake
ActionAid Malawi's Adolescent Girls and Young Women (AGYW) project in Mangochi has been hailed for contributing to reduction of gender-based violence (GBV) and increased uptake of Sexual and Reproductive Health Rights Services (SRHRS) in the district.
Leader of delegation of Malawi's Global Fund Country Coordinating Mechanism (CCM), Chimwemwe Mablekisi, made the remarks yesterday at Chimwala Primary School after a successful AGYW project tour hosted by ActionAid Malawi.  
Mablekisi said the committee was impressed with interventions aimed at reducing the GBV and new HIV infections among girls and young women in the district.  
"I should commend all stakeholders under the project for achieving these gains. I should also commend ActionAid and World Vision for the support they are rendering to the project. Most importantly, we should also appreciate the role the district council and its structures are playing to ensure that these gains are sustained," said Mablekisi.
On her part, ActionAid Malawi Executive Director, Pamela Kuwali, called for close collaboration with the Global Fund's CCM for effective coordination and collaboration in the HIV response.
"Yes, together we have made good progress in these areas, but there is need to continue to work hard to sustain and improve on these gains and also to address the remaining challenges that the country continues in the fight against HIV in Malawi.

"ActionAid Malawi, together with World Vision which is our Principal Recipient, will continue to work with government structures in the context of the 'Fast Track' agenda, in order to attain the 95:95:95 targets as espoused in the National Strategics Plan," said Kuwali.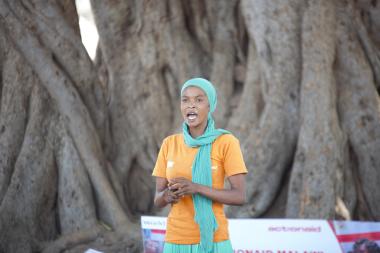 One of project participants, Mary Douglas Awali, said as a Peer Educator trained under the project, she has been able to mobilize both in-school and out-of-school young for tackle incidents of GBV such as defilement and early marriage.
"As peer educators, we also refer the cases of gender-based violence to the Community Rapid Response Team for speedy redress. Through this arrangement, we have seen cases of GBV dropping and many girls and young women the needed to support a better future," she said.
Since 2021, ActionAid Malawi has been implementing AGYW project in Mangochi as the Sub Recipient of Word Vision under the Global Fund's delivery of evidence-based comprehensive package of the non-biomedical interventions for HIV prevention and support among adolescent girls and young women aged 10-24.