ActionAid Malawi, partners for health systems strengthening against pandemics
As Global Fund grants a two-year program extension
As one way of complementing efforts by the Ministry of Health in delivering a comprehensive range of quality, accessible, and efficient health services,  ActionAid Malawi and partners under the COVID-19 Response Mechanism (C19RM) say they are now set to invest in strengthening the health systems against any pandemic in country.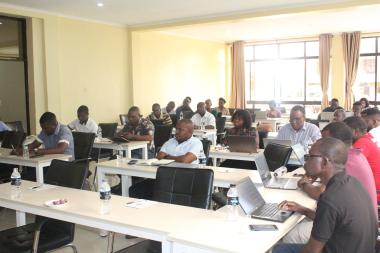 The remarks were made today in Mponela, Dowa during the two-day C-19RM review meeting organised by ActionAid Malawi. 
ActionAid Malawi Acting Executive Director, Wongani Mugaba, told participants drawn from C-19RM implementing partners that the program has been granted a two-year extension to enable partners focus on working with community, district and national health structures in strengthening their capacities against future pandemics.
"However, with the limited funding which is about MK3 billion, we may not support any district. There could also be a refocus on the number of partners we will work with but we will ensure that we maximize impact with the available resources," he said.
Mugaba called on partners to continue with the effective implementation of the current phase of the program to register meaningful impact. 
Since 2022, ActionAid Malawi has been implementing the C-19RM has a sub-recipient to Ministry of Health under the nonbiomedical component.  The program implementation is being done in conjunction with Sub Sub Recipients, Civil Society Organisations, Coordinating bodies, District structures and Community Structures. 
The five Sub Sub Recipients are; the Creative Centre for Community Mobilization (CRECCOM), SRHR Africa (SAT), Family Planning Association of Malawi (FPAM), Malawi Network of People Living with HIV (MANET+) and the Episcopal Conference of Malawi (ECM).
The COVID-19 Response Mechanism (C19RM) is a Global Fund initiative that is supporting countries to mitigate the impact of Covid-19 on programs to fight HIV, TB and malaria, and initiates urgent improvements in health and community systems.