ActionAid Malawi, partners kick-start second phase of social accountability project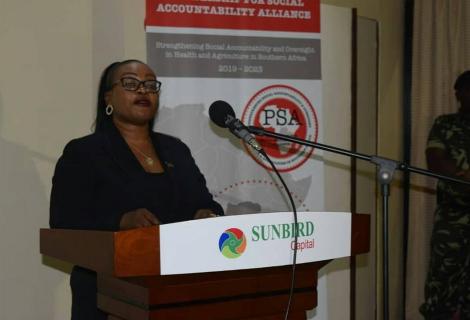 project seeks to ensure public resources in Health and Agriculture are put to good use
On Thursday, 10th October 2019, ActionAid Malawi alongside its partners launched the second phase of the SDC funded "Strengthening social accountability and over-sight in the agriculture and health sector in southern Africa" project.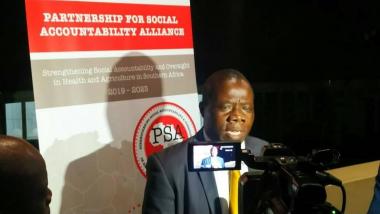 The launch, which took place at SunBird Capital, Lilongwe, was graced by the Speaker of the National Assembly, Right Honourable Catherine Gotani Hara. Other key stakeholders at the launch included, parliamentary committees on Health and Agriculture, government officials and partnership for social accountability (PSA) partners, namely; the Malawi Health Equity Network, NASFAM, the national media, community radios, and community-based organisations in the project's impact districts of Mchinji and Nsanje.
Speaking during the launch, Honourable Gotani Hara, who was the guest of honour, hailed the project, saying it is in line with the parliament's mandate of providing national budgetary oversight.
"You will agree with me that the objectives of PSA model clearly aligns with the mandate of parliament that ultimately purports at strengthening democracy and good governance in Malawi through its key functions of legislation for the common good of the country; representing the interests and aspirations of the constituents from promotion of good governance and achievement of sustainable development," she said.
The Speaker said social accountability is a right for every citizen in Malawi and called upon committees of parliament embark on meaningful oversight over the implementation of the national resources for the benefit of the citizens.
On his part, ActionAid Malawi Executive Director, Assan Golowa, said the phase two of the project which runs from 2019 to 2023, will focus on building the capacity of key stakeholders, learning from the previous phase as well as implementation, with emphasis on oversight.
"I am glad to note that we are launching the project at a time parliament has just passed the 2019/20 national budget. The project will ensure that the resources in the budget go to the intended beneficiaries," said.
Beatrice Makwenda from NASFAM, which is one of the partners under the project, said the project help the organisation monitor allocation of resources towards neglected agriculture sectors such as extension services department.
The social accountability project is also implemented in Zambia, Zimbabwe, Tanzania and Mozambique.