ActionAid Malawi donates to Cyclone Idai victims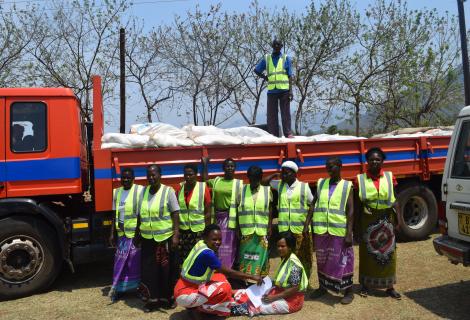 Donates fortified flour to ECD centres
Speaking during the symbolic donation that took place at Nkhulambe in traditional authority Nazombe in the district, ActionAid Malawi Executive Director, Assan Golowa, says the gesture is part of the K150 million grant ear-marked for relief and resilience for the families reeling from the effects of the Cyclone Idai in Phalombe and Nsanje Districts.
Assan said ActionAid Malawi will work with local partners, especially women-led organisations in championing accountability in disaster response as well as finding the lasting solutions to the natural disaster.
"We decided to make this donation after realizing how ECD lessons have been affected due to inadequate food in most of the community based childcare centres.  We also noted that the food shortage issue is mainly due to the fact that most households here were affected by the cyclone Idai disaster," said Golowa
He appealed to the stakeholders, which included, Phalombe District Council Chairperson, councilors, Area Development Committees, Senior T/A Nazombe, Phalombe Council Secretariat, Community Based Organisations and community members to offer Phalombe Women Forum all the necessary support during the implementation of disaster related interventions in the district.
Phalombe District Council Chairperson, Fredson Thomas, thanked ActionAid Malawi for the kind gesture and assured the organisation that the council will work closely with women to ensure that the donation reaches intended beneficiaries.  He hailed the organisation for complementing council's efforts in areas of education, HIV and Aids, human rights, women empowerment and resilience.
Phalombe Women Forum Chairperson, Catherine Chiwaya said the support from ActionAid Malawi has motivated them double their efforts in reaching out to those in need in the district.